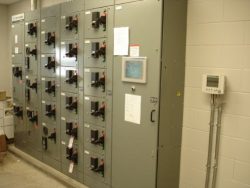 Among the most effective wastewater treatment methods out there is UV disinfection in Sunrise Beach and Camden County, MO. At Enviro-Line Co, Inc., we specialize in providing our customers with critical products and UV elimination systems designed to achieve optimal disinfection. We're glad to consult with you on your UV disinfection system and critical solutions.
We represent Neo-Tec for small flows (1 MGD and smaller) and Calgon for larger flows (greater than 1 MGD). Both systems are self-cleaning and very economical.
UV Disinfection Overview
UV disinfection is an effective method to remove coliform and microorganisms through exposure to a specific wavelength of light. That 254 nanometer(nm) light wavelength is invisible to the naked eye, but penetrates the cell wall to disrupt the DNA of microbes. Disturbed DNA ensures the microbe cannot reproduce.

High Lamp Outage Module
For UV treatment, we recommend the Wedeco low-pressure, high lamp outage module in Sunrise Beach, MO. It's the most efficient system, with the advantage of self-cleaning sleeves. Take a look at some of its other innovative design features and how the Wedeco system matches up with competitor options:
Design Feature
Changing lamps
Changing ballast
Self-Cleaning
Safety switch on module
Flooding module
Module change lamp time
Self-supporting module
Wiper system
Factory trained service
Operators like better
Competitor
Remove sleeve
Remove components
Chemical required
Not available
Destroys electronics
20-30 minutes/lamp
Not available
Hydraulically actuated
One person
Wedeco
Only remove lamp
Change ballast < 1 minute
No chemicals, Teflon 'slinky'
Prevents exposure to light
No electronics on module
< 5 minutes/lamp
Yes. Standard for storage
Pneumatically operated
Five local KS/MO area
Operator's choice
Examples of Local Installations
Horton, KS: 1 MGD trickling filter effluent
Spring Hill, KS: 5 MGD activated sludge effluent
Rockaway Beach, MO: 2 MGD activated sludge effluent
Seaboard Corporation: 3 MGD activated sludge poultry plant
Baldwin City, KS: 3 MGD activated sludge effluent
Basehor, KS: 3 MGD activated sludge effluent
UV Disinfection Solutions
If you have a UV disinfection system set up or are in the process of implementing this technology, consult with the control and installation experts at Enviro-Line Co, Inc. Reach us today at 573-873-5182 to discuss Wedeco low-pressure, high lamp outage modules and strategies to maximize disinfection.